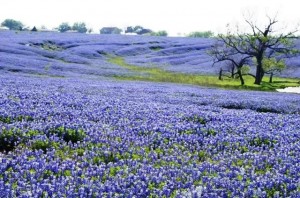 It looks like we're finally going to have a Spring in Central Texas. It was touch-and-go there for a while, as the temperatures swung 30-40 degrees daily. They finally stabilized into a pattern more recognizable to the inhabitants.
There is something so comforting about seeing splashes of bluebonnets, Indian paintbrush, and buttercups, even bordering the Austin freeways. Along with the not-easily-fooled mesquite tree finally budding out, these ironclad promises of spring make everyone feel more optimistic and adds  "spring" to the step.
When I was a child, spring showed up early in my mother's iris beds. There were two clumps of bulbs planted in the middle of the front yard, one purple, one white. I loved to cut a white one and put it in a glass of water and red food color. Before long that pure white blossom would be tiger-striped, the red liquid sucked up  into every vein. I used green food coloring if there were any irises left for St. Patrick's Day. The rest of the year the foliage served as something for me to leap over, as I practiced the world's shortest long-jumps.
Some people plan trips to Paris (the one in France) or India, safaris in Africa, or mountaintop Incan ruins. Bryan and I plan one- or two-day trips in the Hill Country. We never tire of exploring the little towns, museums, and shops, and if we're lucky, getting into conversations with friendly locals.
My favorite quotation is by the sportswriter/novelist Dan Jenkins: "What I love about Texans is, you ask them a question, they tell you a story." That's a major part of the charm in driving around Texas. If you mind your own business and fail to strike up a conversation in the shops and cafes, you're missing out on a lifetime of stories.
Bryan and I have become fond of Johnson City. We "rediscovered" it when I attended a seminar for writers at their library. While I studied the craft, Bryan hiked around Pedernales Falls State Park. Before we left, a charmingly pushy librarian sold us tickets to their spaghetti/bingo fundraiser the next month.
I wrote about the event in the post, "London, Paris, Las Vegas…Johnson City?" (3-8-2013), where Bryan won a $50 gift certificate to Ronnie's Ice House, totally unknown to us. It was several months before we got around to driving back up to JC and cashing in our prize.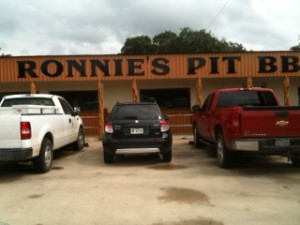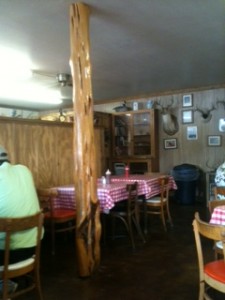 Ronnie's is kind of strange to city slickers, used to restaurants open most of the day and night. They are open from 6:00 a.m. to 3:00 p.m. every day but Sunday. We tend to plan our daytrips around Ronnie's hours, but it's worth it. The brisket is possibly the best I've ever eaten, so good I had to force myself to try the chicken (wonderful) or  the pork loin (life-changing).
I also like their sides, which go beyond the standard potato salad and beans to include corn salad, tomato and cucumber salad, and others. I've always meant to try one of their two desserts, buttermilk pie and pecan pie, but I've never had the room for it.
The interior, a cross between a hunting camp and a classic truckstop, is as friendly as the regulars who talk to each other across the room.
"How you doin', friend?"
"Can't complain. Wouldn't do any good anyways. Where's Mary?"
"She's gettin' ready to go to Austin. Gotta get a root canal."
"Oh, Lord! You tell her we'll be prayin' for her."
"I'll do that. While you're at it, say one for our bank account, too."
It strikes a deep chord in anyone who grew up in Texas or would have liked to. And I'm not too citified to find all of this comforting and charming. If Norman Rockwell had been a Texan, the Saturday Evening Post's covers would have regularly portrayed the inside of Ronnie's.
Johnson City is a great staging area for side trips, too. Sometimes we visit Enchanted Rock to reminisce about when we could both climb it. It's an easy jog to Fredericksburg for shopping, too. Last time we explored JC and visited the museum at the LBJ Childhood Home complex. I even managed a circuit on the walking path that circles several historic buildings.
If you want to unwind without a large time or cash investment, I recommend daytripping. Pretty soon you'll get as excited over a visit to the Hill Country as a trip to Europe, which as my father used to say, is "just too far and snaky to go."