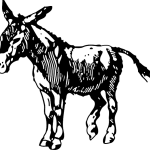 Do you remember The Fonz trying to say he was wrong and the words refusing to come out?
"I was wr-r-r-r-r-r-r-r-r, wr-r-r-r-r-r-r-r-r-r!" He looked like he
was passing a kidney stone.
I have somewhat the same problem, but when I'm wrong I do eventually admit it. I attended my tenth high school reunion and the 45th. In between I had very little contact with anyone I knew from high school, and that's the way I wanted it. They were not good years for me, and those were not fond memories. If it weren't for high school, what the hell would we have to talk about with our
therapists?
Thanks to the woman who ramrods the reunions, Ilene Arbetter, I was hunted down and practically dragged to our reunion in 2012. The supposed end-of-the-world apocalypse forecasted for December 21 may have had something to do with my decision. After all, what did I have to lose?
What I discovered was that I was wr-r-r-r-ong. Everyone was much older, a bit wiser, and we had all swallowed a good dose of reality in the ensuing years. I saw old friends who still seemed glad to see me and to be seen. Memories of good times I had completely forgotten returned, and for the first time in 45 years, I felt the pain and anger I associated with that time of my life ebbing away. I discovered a lot of the negative feelings I'd carried for so long had more to do with my relationship with my mother back then than they did with the kids I
blamed for them.
I am so grateful to Ilene for nagging me into going. I'm still reaping benefits from reconnecting with my schoolmates. It seems like every few weeks there's someone new who takes the plunge and joins our Facebook group. And every once in a while, one of those people become new close friends, based on shared interests and politics, or friendly adversaries, based on opposite viewpoints and politics. It all stays remarkably civil, much more so than I would have believed
possible.
So now I have old friends, new friends, and new old friends. My husband has been caught in the fallout and has made a few new friends, too. He enjoyed my reunion because he likes hearing things about me I never told him. Also, he doesn't have to remember anyone's names since it's not his reunion. There's no pressure, and
occasionally he gets an illuminating tidbit about my teenage years to laugh about.
My point is this: when your next reunion comes up, give it a chance. If you make just one new old friend, it will be worth your effort. You might even discover that someone you despised back then isn't so bad now. There's something about life that mellows most people. Marriage, kids, divorce, illness, and deaths have happened to us all, and we carry the scars on our faces.
Most of us look like crumbling Greek ruins, until we smile. There's something so touching about someone smiling and being able to glimpse that sweet young boy or girl again, even if it's only for a second. Our younger selves are still inside us. That part of us never ages, never dies.