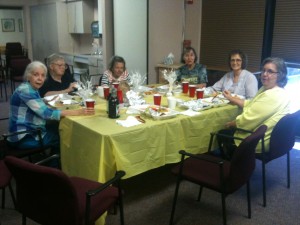 As someone approaching the Medicare Wonder Years, who anxiously awaits catalogs with the latest styles in knee braces, and who has a map of the Nile Delta etched in the skin at the corner of each eye, my recent trip to Georgetown to visit some older friends was profound. These friends, Addie and Roger Busfield, are just about ten or fifteen years older than my husband Bryan and I, and we've come to admire, respect, and  love them over the years.
Roger had a long career in theatre and teaching, and he wrote a textbook on writing plays that was translated into several languages.  It is still being used. Addie is a gifted artist, whose works can be seen on display in the Georgetown Public Library and on several friends' book covers.  Both highly intelligent and interesting people, they mastered the art of being urbane and down-to-earth at the same time. Also, both of them are a hoot!
A few of their friends and Bryan and I joined them for a Dos Salsas food fest at the Wesleyan Nursing Home where Roger now lives. Ann Bell picked up Addie at Estrella Independent Living, and Joan Hall, Carol Menchu, Bryan, and I picked up fajita taco plates for all, Roger having requested that specifically. We ate, talked, ate, and talked some more, seven old friends around a large table, a great way to spend an afternoon.
It impressed me that with an age span of about 20 years around that table, we all were on the same page in life, give or take a page or two. I could easily see myself in five or ten years, an observation common to us all. The disadvantages of getting older are readily apparent, so I tried to think of advantages that will come–basically from here on out–as I approach the place on the highway of life where the pavement ends.
1. Pie will be reclassified as a vegetable, and no one will care if I eat my dessert first.
2. Having forgotten her name and phone number, I will no longer have to deal with my sister.
3. I will no longer care about getting to watch what I want on television; my favorite show will be Progressive commercials with Flo.
4. My grandkids will remain little forever. When they bring their children to visit me , I will assume they are all my grandchildren and be permanently delighted.
5. My mind will eventually migrate to a time and place I was happiest, probably the Sixties when the music was good, and all the deceased ones I've missed will come visit me at night–by invitation only.
6. I won't own any clothes that aren't comfortable, and I won't notice whether they match. My dress-up shoes will be socks with non-skid patches on the bottoms.
7. My beloved Bryan will still be with me, although he will n0 longer care about sports and will have developed an interest in true crime programming.
8. My dogs will return from Pet Paradise to visit me but will no longer poop on the floor.
9. My face will have a permanently pleasant expression, carefully cultivated over the years, so people will be nice to me and want to talk to me.
10. I will not "find God," (not having mislaid Him, as far as I can tell) or be more religious than I was earlier in life when all my screws were countersunk, when I knew exactly what I was doing, and what the cosmic consequences were likely to be. I will not expect amnesty because I am old. Instead, I will count on His having a sense of humor.
I hope I can age as gracefully as Roger and Addie have. I hope my friends will want to throw a shindig for me at the nursing home. I hope I will still be able to make them laugh.
I would also like to get  my order in now for a Dos Salsas Enchilada Plate.  I will tell you where to bring it when I make my final blog entry.