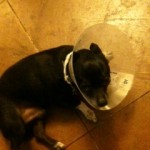 No doubt about it. We love our dogs. They are all rescues, co-opted mainly from various relatives who couldn't or wouldn't take care of them, and there's not a pedigree in the bunch. They are all mixed breeds, although one, Angie, may be the product of inter-species dating.
Angie, the oldest at 16, has congestive heart disease and is going downhill. In less than a year she has gone from 3 out of 6 to 5 out of 6 on the Congestive Heart Failure scale, according to the vet, and this is one time when higher scores are not better.
Annie, at 15, seems to be doing well, except for missing a few teeth and several marbles. Her personal credo is: "I lick, therefore I am."
Taco, who is supposed to be 4, is starting to show the wear and tear of a much older dog. His age is based on the unreliable memory of someone who inherited him from a tenant who didn't want him anymore. His muzzle is beginning to show white, and he recently underwent dental surgery and removal of a growth on his paw. That screams, "Old Man!" to me.
So we're running a nursing home for geriatric dogs once again. Bryan was handling the medications, a single pill for Angie along with the morning treats. He came down with his semi-annual, near-fatal allergy attack about the time everything changed and is just starting to get the hang of the new routine.
Here's the schedule:
6:30 a.m. Pick up food, because one of Angie's meds needs to be taken an hour before eating.  Tear Pill Pocket in half, putting half in a small container for later. Press small, white pill and 1/2 of diuretic into 1/2 Pill Pocket. (The diuretic is roughly the size of a newborn baby's fingernail clipping.) Break large, new heart pill in half, saving half for later in the small Later container. Give meds to Angie and morning treats to all.
6:45 a.m. Take large dollop of bland chicken and rice soft dog food from fridge and microwave for 10 seconds. Add 1 dropper of foul-tasting antibiotic liquid and 1 tsp. of sugar free maple syrup. Mix well. Hold while Taco manages to lick up every crumb. He is blissfully unaware that this will end when he takes all of the medicine.
Late afternoon – Repeat.
Taco lost his bottom four front teeth due to decay, which is another reason I don't think he's the spring chicken he's supposed to be. The lady at the vet's cheerily told me it was a good thing he didn't lose his front teeth, too, because then his tongue would hang out. A blessing, indeed.
On top of everything else, Taco has a hard plastic cone (sometimes known as a Renaissance collar) encircling his head to keep him from licking the stitches on his paw. He looks like an ice cream cone from "The Island of Dr. Moreau." What's more, he absolutely hates it and spends his time lying on his side, doing an excellent redition of the death act from "Camille." He has mastered the art of the guilt trip and lays it on thick. This will go on until he gets his stitches out, sometime next week. I'm counting the days.
All of these visits to the vet and meds cost about the same as a down payment on a Volkswagen. It's not that I really mind. As Bryan reminded me, "They are our children now." I just wish we could claim them as dependents on our 1040.
I will never be without a dog. They are such good company, they love without agenda, and I apparently need something I can make neurotic without recriminations. Even if I have to live in a nursing home someday, I plan to bring my dogs along, in my mind–all of them–from Dixie and Penny, my childhood dogs, to Smokey, Tasha, and Tawny, our big dogs, to Angie and Annie, and Taco who lies about his age.
I hope I get a big room.