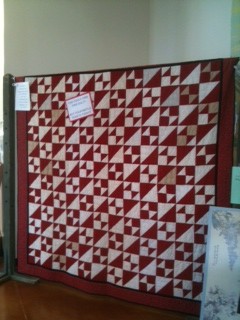 I'm not admitting I've sold out to aging, but Bryan and I had an unusually fun weekend recently doing something I never thought I'd do. For my birthday, we drove to Johnson City to attend a fundraiser for their library.
I became aware of this function the weekend before when I attended a writers' workshop at the library. There I met Leslie, one of the library ladies when she's not selling ice to Eskimos. We talked while I waited for my folk to arrive, and she pointed out a gorgeous hand-made quilt they were raffling, several cellophane-wrapped baskets of goodies to be auctioned, and she mentioned the spaghetti dinner, Bingo, and silent auction the  following weekend. I bought some raffle tickets, because I really wanted that quilt, and went on to my workshop.
Bryan did the driving that morning, and we arrived early enough to eat breakfast at the Hill Country Cupboard, a Johnson City must. They advertise their chicken fried steaks – Nearly 3 Dozen Sold – but their breakfasts are really excellent, not the artery-clogging fare we expected. He dropped me off at the library before backtracking to Pedernales State Park to do some hiking.
Showing back up at the appointed time, he entertained himself looking at all the things I had checked out earlier. Leslie asked if he was Janet's husband. I'm not sure why, since the whole class consisted of women about my age, and he said yes and introduced himself. She proceeded to tell him everything we had discussed earlier, filling him in on the fundraiser, and he was paying for two tickets to the spaghetti dinner when I met up with him.
Fast forward to the next weekend. We drove to Johnson City, found the Methodist Church where they were holding the fundraiser, and were welcomed by some really nice church ladies that looked exactly like the church ladies we both remembered from our childhoods. Dinner was tasty and organized as only church ladies and drill sergeants can.
Soon it was time for Bingo. The last time I played that game we covered the numbers with pinto beans. These cards, with their little sliding number covers, were strictly uptown. Bryan won a Bingo game and received a gift certificate for a local, highly-recommended barbecue joint, so we'll be going back to Johnson City again real soon. I won nothing, including the quilt, but that was a close one. I had a moment of excitement when they drew and announced the winner was another Janet from Austin, but not me. Bryan also put in the winning bid on a watch at the silent auction, one of the few he didn't already own. He couldn't have been happier if he were twins! As he says, you can never have too many watches.
While driving back on Hill Country backroads as dark as the inside of a black cow, we talked about how much fun we'd had. We visited with some really nice people, ate good food, gambled, and played Bingo, all without having to set foot out of our home range. We also didn't have to set foot in Vegas, something I try to avoid. I may be getting older, but I wouldn't trade our Hill Country odyssey for a chi-chi dinner in a Houston uber-restaurant, which we used to enjoy so much in our younger days. We wore comfortable clothes, sensible shoes, and garnered many a story to pass on over the next few weeks–AND–it was for a wonderful cause, helping the Johnson City Library pay on their beautiful new building.
So if you get tired of Green Pastures, the Driskill Hotel, or even Ruth's Chris Steakhouse, consider spending your time and money in Johnson City, Texas. It's definitely a place worth writing (home) about.